Frequently Asked Questions
Gifts for Hospitalized Patients
Why are KickIt Pajamas the perfect gift for hospitalized patients?
A typically hospital gown leaves patients feeling exposed and vulnerable. Studies show that wearing your own clothes in the hospital increases your self-esteem and emotional well-being. This is important as good emotional immunity can make you more resilient to anxiety and stress which greatly impacts your physical immune system.
Anyone that has taken a shower, gotten dressed, and put on makeup while having a horrible headache knows that when you look good, you actually feel better. You become prepared, confident and ready to take on the day. Our pajamas are just that: the armor one needs to feel prepared and kick Cancer's A$$.
What makes KickIt Pajamas special?
Being cancer survivors and caregivers ourselves, each element of KickIt Pajamas is designed with the patient in mind. The soft, cotton-bamboo fabric is moisture-wicking and helps with temperature regulation to keep patients warm in chilly hospitals or for cooling when the sweats set in from hot flashes or fevers. Bamboo fabric is also known to have antibacterial properties. The snap sleeves and wrap style allow the top to deconstruct which makes changing and access for medical care simple for both the wearer and the medical staff. For the At Home Recovery pajamas, internal pockets securely and discretely hold medical devices, such as drainage bulbs. Deep external pockets have plenty of room for carrying phones, tissues, lip balm, and other items a patient may need. The pants have a fold-down yoga waist without any pinching elastic or ties for maximum comfort and adjustability.
Why not give more conventional gifts like flowers, food, or bath products?
These common gifts, although appreciated, can sometimes miss the mark. Many hospitals do not allow flowers and plants in rooms of cancer patients as they naturally carry pollen and fungal spores which can cause infections in people with weakened immune systems. Scented products like candles, lotions, and powders may increase nausea in chemotherapy patients. Chemo and radiation can also cause tongue and mouth sores, making certain foods unpleasant and even painful.
Do hospitals allow patients to wear their own clothes while hospitalized?
Yes! There may be certain procedures or diagnostic tests that will temporarily require hospital issued attire, but for the majority of cases, wearing your own clothes is permissible and encouraged!
Can my gift be delivered to the hospital?
Yes! Be sure to include the hospital name, hospital address, patient's name, and patient's room number if possible.
Do you provide gift wrapping?
All of our products are shipped in a beautiful canvas bag, so gift wrapping is not necessary. The tote bag can be reused for laundry or other personal items one may have while hospitalized.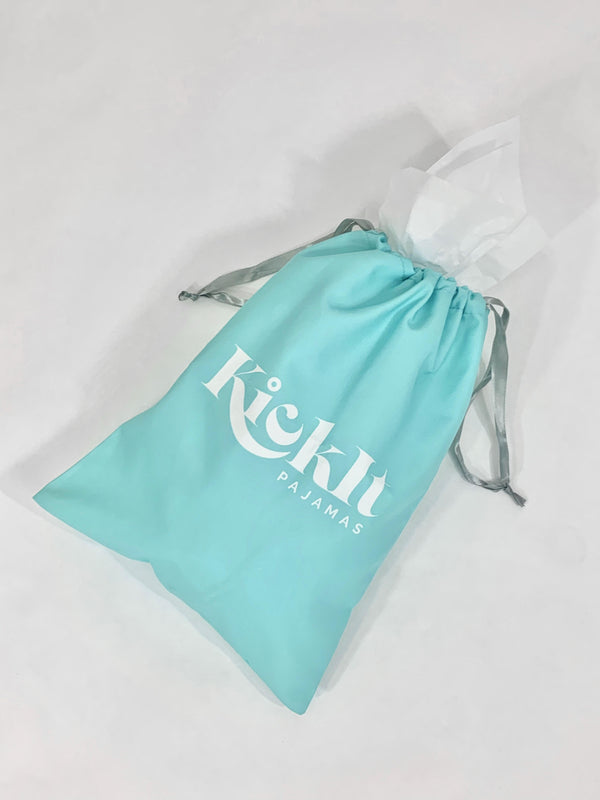 Can I include a gift message?
Yes! After you add an item to your cart, you can customize a special gift message on the Shopping Bag page. The gift card is thoughtfully designed to be cherished and used as a bookmark. The message can serve as a touchpoint to inspire and lift spirits over and over again.
Pajamas, gowns, and capes: Wash cold with like colors. Tumble dry low or lay flat to dry.
Scarf and Socks: Machine wash cold. Lay flat to dry.
Headband: Hand wash and lay flat to dry.
How do I know whether to choose a gown or pajama style for myself or loved one?
Gowns may be more appropriate for patients with surgical scars or wounds from the waist down, urinary catheters, and patients who are immobile or incontinent. Also consider their style! Some people prefer a gown to pajamas and others don't. Pajamas should be appropriate in most other situations. If you find that the item is not right for the patient, please return the item, unworn, in the original packaging with their tags for an exchange or refund within 10 days of purchase.
When is the KickIt Cape an appropriate gift choice?
This stylish, cozy, and functional item is perfect for anyone! Our KickIt Cape is designed for warmth and modesty whether your loved one is being treated in the hospital, at an outpatient center, or convalescing at home. This can be worn over pajamas for those laps around the nurse's station, in the chilly infusion centers where patients receive their treatment, or even for a quick trip running errands. The soft fabric feels luxurious against the skin, the pockets are a perfect place to store a phone, and the arm construction makes it simple to take on or off even when hooked up to an IV line.
Who are the SideKicks for?
These are great gifts for anyone! Our super comfy fleece lined Socks will keep tootsie's warm and the thick, sturdy construction and no-skid bottom means they can be worn like slippers. The KickIt Comfort Wrap will keep your loved one cozy and cute with its stylish cable knit design and hand warming pockets. And when face masks are a necessity, keep them comfortable with our KickIt Headband designed to hold the mask straps in place and take that annoying pressure off the back of the ears.
To return an item, please reach us at returns@kickitpajamas.com. Due to the nature of the product, we only accept returns of unworn, unlaundered products with the tags still attached.
If your order is incomplete, incorrect, or damaged, please reach out to us at info@kickitpajamas.com within 10 days of receiving order so we can fix the issue quickly.
For refunds, reach us at returns@kickitpajamas.com.
What is the status of my order?
You can check the status of your order by clicking on My Account, which is found at the top of our homepage or here.
Can I change or cancel my order?
We try our best to accommodate change requests and cancellations, but we typically ship within 24 hours. Therefore, please email us immediately if you need to make a change and we will try our best to make it happen! You can also reach our shipping department at shipping@kickitpajamas.com. All order changes and cancellations are subject to a $5 fee.
Do you charge sales tax?
We charge sales tax on all items that are shipped within GA. All other states ship tax-free.
How do I enter a coupon code or gift card number for an online purchase?
All codes can be entered during the checkout process.
What payment forms do you accept?
We accept all major credit cards as well as GooglePay, ShopPay and PayPal.
What are your shipping costs?
We offer several shipping options via UPS. Your shipping costs will be calculated at checkout. 
When will my items ship?
We typically ship orders within 1 business day. Orders placed after 11:00 am EST/EDT on Friday will be processed the following Monday. Your tracking information will be emailed as soon as your order is shipped.
What delivery methods do you use?
We offer several shipping options via UPS. The cost will be calculated at checkout. 
Do you offer international shipping?
Yes, we ship all over the world via UPS. Your shipping cost will be calculated at checkout.
Do you accept returns or exchanges.?
Yes, we accept returns and exchanges of unworn and unwashed items with the tags on within 30 days of receipt. Please click HERE to start a return or exchange.